How to report a problem on Neat Pulse Control
Last updated on September 20, 2023
Introduction
Neat Pulse comes with premium support from Neat. This article walks through how to report issues to Neat using the Pulse Control platform.
Submit Logs
To create a support request within Neat Pulse, select the device you are having issues with from the Devices menu, then click on the three dots icon and select the "Submit logs" option.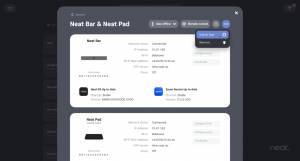 You can also report feedback for an entire room or a selection of devices.

The "Submit Logs" option will open an email template containing your support feedback request ID that you can use to send details to Neat support. As long as your device is online and has been upgraded past the 20230504 firmware version at the time the report is submitted, Neat level logs will automatically get retrieved from the device and sent to Neat support along with your feedback.
Additionally, you can email support@neat.no and one of our support engineers will get back to you.