Last updated on June 29, 2021
Neat Sense is an advanced set of smart room sensor technology built into Neat devices. Neat sensors enable you to continuously manage and monitor air quality, humidity, CO2 and Volatile Organic Compounds (organic chemicals, odors, scents, etc.), and the number of people in the room. The data collected by the sensors is sent to the Zoom cloud, where it is further processed to provide user-friendly graphics through Zoom Dashboard.

For more information about Neat sensors, please read the article Neat Sense and Neat Sensors

This article explains how to configure Neat Sense in your environment.
Prerequisites
Zoom Administrator's account
Neat Bar and Neat Board running Zoom Room software version 5.5.0 or later. (Neat Pad currently does not report air quality etc. data to Zoom yet)
Shared-Space License Zoom Room (feature not available for Zoom for Home / Personal Zoom Room devices)
How to enable Neat Sense
On Zoom Administrator Portal
Sign in to Zoom's web portal at https://zoom.us/profile using your administrator's account.
Navigate to Room management -> Zoom Rooms (left hand side).
From here, you can choose to enable Neat Sense at an Account level (so all Zoom Rooms will have it enabled by default) or on specific Zoom Rooms.
For account level, choose 'Account Settings' -> Meetings tab; for individual Zoom Room, click 'Edit' (next to Room name) -> Meetings tab.
Now find the options 'Count the number of people in room' and 'Detect room air conditions' as shown below.
Once you enable these two options, Neat devices running Zoom Room 5.5.0 or later will start sending the Neat sensor data over to Zoom Cloud.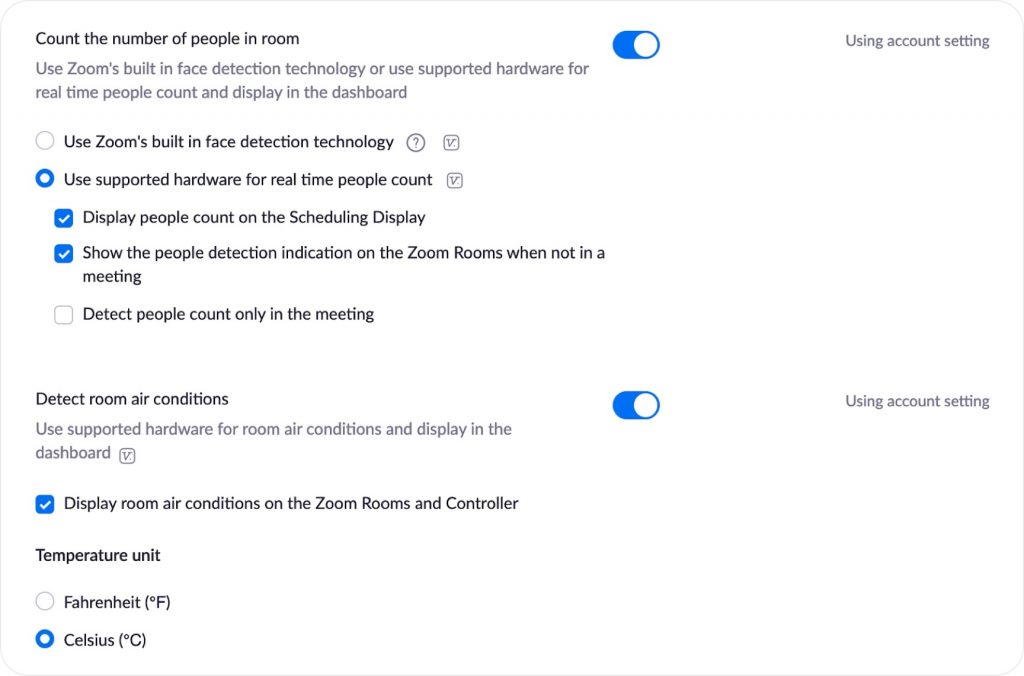 How to view Neat Sensor data
On Zoom Dashboard
Navigate to Zoom Dashboard -> Zoom Rooms.
Find the 'Customize' option (upper right of Dashboard) and open it to enable 'Air Conditions' and 'People Count'.
Next, find your Zoom Room and you will find a short summary about the various sensor data collected from the room.

If you now click on the 'View Details' option, you will be able to view the graphs and refresh the data in real-time.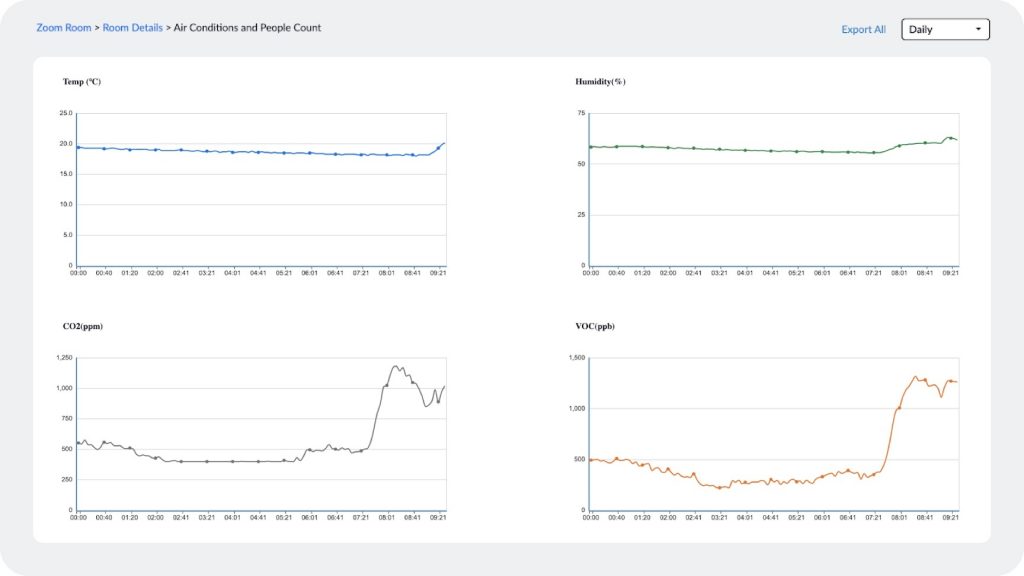 On Neat Pad or Neat Board
You can also view the sensor data on your Neat Pad or Neat Board under Zoom Settings -> General option.
From the June software release, it is also possible to view people count on a Neat Pad running Zoom Room Scheduling Display application. This can be useful in situations where the Neat Pad is installed outside a meeting room and users can see how many people are inside the room (especially if there are restrictions on meeting room occupancy).