BYOD Mode on Neat devices
Last updated on August 9, 2023
While Neat devices deliver great experiences through the Zoom and Microsoft Teams native applications, we understand our customers may sometimes be invited to meetings on other services, without a platform-level interoperability solution available. For these scenarios, we want to give Neat customers a method to use our devices on any platform. The BYOD Mode feature offers the ability to use your devices for ad-hoc meetings requiring a 3rd party video service, but keeping the benefits of Neat's hardware and features.
This document will give you step-by-step instructions on how to enable BYOD (Bring Your Own Device) Mode, formerly called USB Mode, on your Neat Bar, Neat Board, or Neat Bar Pro (The Neat Frame does not currently support this feature).
Note: BYOD Mode is currently a beta feature for the Neat Bar Pro
Requirements:
USB-C to USB-C or USB-A to USB-C cable (2.0 or higher)*
HDMI Cable (existing content-share HDMI cable can be used for BYOD Mode on Bar)

Personal Computer

An HDMI connection will be required for the Board
USB-C to HDMI adapters are supported
*Note: The BYOD Mode feature will only support High Speed (USB 2.0) data transfer rates currently due to temporary software limitations. However, it is recommended to use Super Speed (USB 3.0) cabling to enable the use of Super Speed connectivity in the future when device software updates permit. USB 2.0 (aka High Speed) will continue to be compatible even after USB 3.0 (aka Super Speed) support is released.
---
Step 1: Enable BYOD Mode
On the Neat Pad or Neat Board:
Navigate to Neat's System Settings, this will look different based on the platform your devices are registered to (Zoom or Microsoft Teams)
Under Neat System Settings -> System -> Scroll down and enable the BYOD Mode toggle.
Once the BYOD Mode feature is enabled, USB passthrough functionality becomes fully automatic. When Neat devices are wired like mentioned in Step 2: Cable Set Up, the devices will immediately be accessible from your computer as USB-connected peripherals.
Warning: Zoom and Microsoft Teams rooms will be "offline" from the platform's perspective when using BYOD Mode, because the application on the Neat device has been temporarily closed.
---
Step 2: Cable Setup
Bar
Connect one end of the required USB cable to the USB-C port on the back of the Bar (Figure 1) and the other end to your computer.

If a display(s) is connected to your Neat Bar, you will see a diagram explaining the ability to mirror or extend your computer's display by connecting the HDMI cable from your computer to the HDMI-in port on the Bar (Figure 2).
Once a computer is connected to the Bar's HDMI-in port (Figure 1), your screen will appear on the display(s) connected to HDMI 1/ HDMI 2.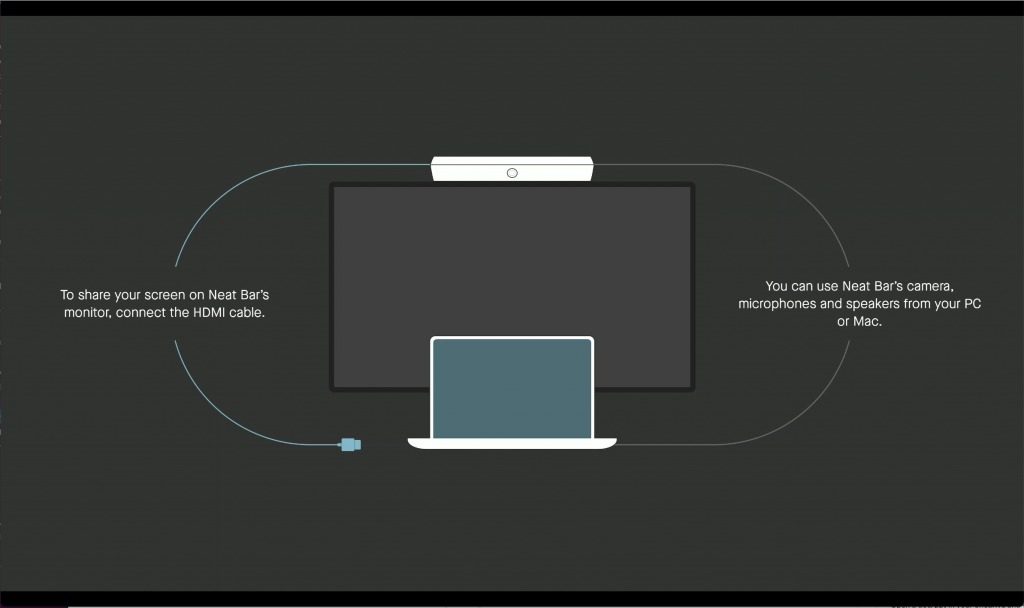 The Pad will now display a toggle to adjust the Neat Symmetry settings on your Pad to frame participants as individuals or groups, when possible (Figure 3). You will still have access to Neat settings; a setting wheel will be located in the top right corner of the Neat Pad's display.
You will need to use the Pad originally paired with your Bar. Other connected Pads and 3rd party controllers will appear as disconnected from your room.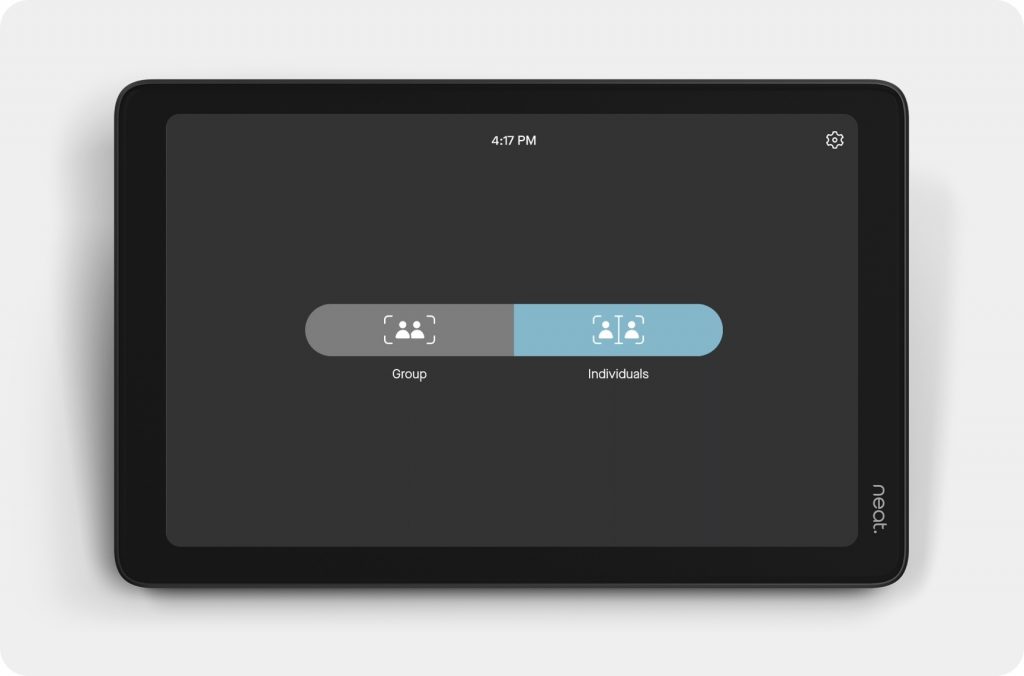 Board
Connect one end of the required HDMI cable to the HDMI-in (local) port on the back of the Board (Figure 4) and the other end to your computer. Unlike the Bar, the Board will need an HDMI signal from your laptop.
Important Note: The HDMI cable must be connected FIRST to activate BYOD Mode on your Board. If on a Windows/Linux system, touchscreen capabilities will allow for the Board to interact with your computer.
Once you see your computer's display mirrored or extended to the Neat Board, connect one end of the USB-C cable to the back of the Board (Figure 4) and the other end to your computer. BYOD Mode will automatically commence.
Note: BYOD Mode will be disabled if your computer goes into Standby/Sleep as the Board will no longer detect an HDMI signal.

Please note there are no camera controls for the Board and the view will default to your last used camera settings or your video conferencing platform default setting at the time of writing this article.
---
Step 3: Set Neat Device as your default Video and Audio Devices
Once you have enabled BYOD Mode and properly wired your device, open your preferred video conferencing platform application on your computer. At this point, you might need to set the default devices for the camera, microphone, and/or speakers to the Neat Device. Neat device names will begin with Neat Bar…' or 'Neat Board…'
You are welcome to enable only the hardware you would like to use for your meetings. Example: using the Neat device's camera and microphone only while using your computer's built-in speakers. Note: There are no audio settings on the Pad or Board, but volume can still be controlled from your computer as you would built-in speakers.
Since there are a large variety of video conferencing options available, we have provided links to adjusting the audio/video settings for some of the most common. This is not a comprehensive list, as conceptually any conferencing software capable of interacting with a USB device can work with Neat's BYOD Mode.
Note: If you are having issues with adjusting the volume on Mac devices, please review this article by Apple on adjusting sound output settings.
Platform Setup Articles:
---
Step 4: Enjoy the Neat experience on any platform!
With this, you should now be fully set to use your Neat Bar or Neat Board with any video conferencing application!