How to set up a Neat Bar Pro
Last updated on February 7, 2022
Congratulations on your new Neat Bar Pro!
Neat Bar Pro packs a stack of tech into a simple and elegant slimline device. Capable of driving three large screens, it enables you to see people and content together more clearly. Simultaneously, its uncompromising audio and video quality give you an incredibly immersive, natural meeting experience throughout any space.
In this article, you will find step-by-step instructions on how to setup your Neat Bar Pro and Neat Pad (brand new or after a factory-reset). It is very simple!
Prerequisites
What's Included
Your package comes with two boxes, one which contains Neat Pad, and another that contains Neat Bar Pro.
Neat Pad
Open the smaller box for the Neat Pad first.
Inside the box itself, you'll find the Neat Pad itself, a Quick start guide, a Power-Over-Ethernet injector, Ethernet cables, and several international plugs that you can choose from depending on where you are in the world. You will also have a mount adapter, side mount and wall mount. Note: You will only need to use the side or wall-mounting hardware if you plan to use your Neat Pad as a scheduling display.
Neat Bar Pro
Open the larger box that houses your Neat Bar Pro.
Inside the box, you'll find your Neat Bar Pro, a Quick Start Guide and the mounting hardware (mount adapter, wall mount, screen mount and table stand). In addition, the box includes HDMI cable, Ethernet cable and power cable for your region.
Step 1: Power up your Neat Pad
If you have Power-Over-Ethernet (PoE) built into your network device, simply use the Ethernet cable (supplied) to plug your Neat Pad directly into an Ethernet port to receive network and power. For more information on PoE, please see the article: Neat Pad: Power over Ethernet (PoE) requirements.
OR
If you don't have PoE, then you can use the PoE injector (supplied) to power your Neat Pad. There are two interfaces on the PoE injector: a Power interface, to power the Neat Pad (icon shows a Pad with a finger); and a LAN interface, to connect the Neat Pad to your wired network (icon shows wired LAN). See the image below.
To power the Neat Pad, use an Ethernet cable to connect the Pad to the PoE injector's Power interface. Then plug the PoE injector to your power outlet/plug socket.
Next, if you want to connect your Neat Pad to wired Ethernet, connect the PoE injector's LAN interface to your network port using an Ethernet cable.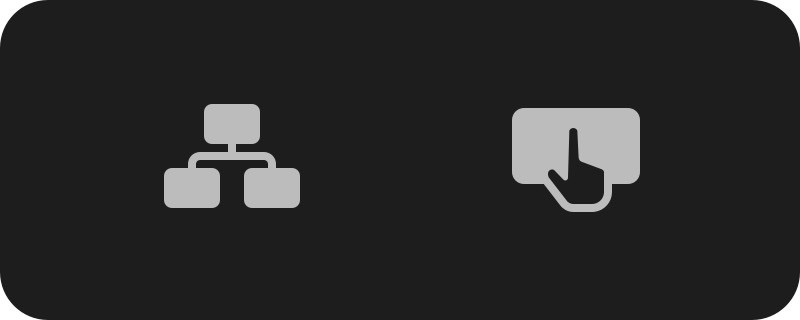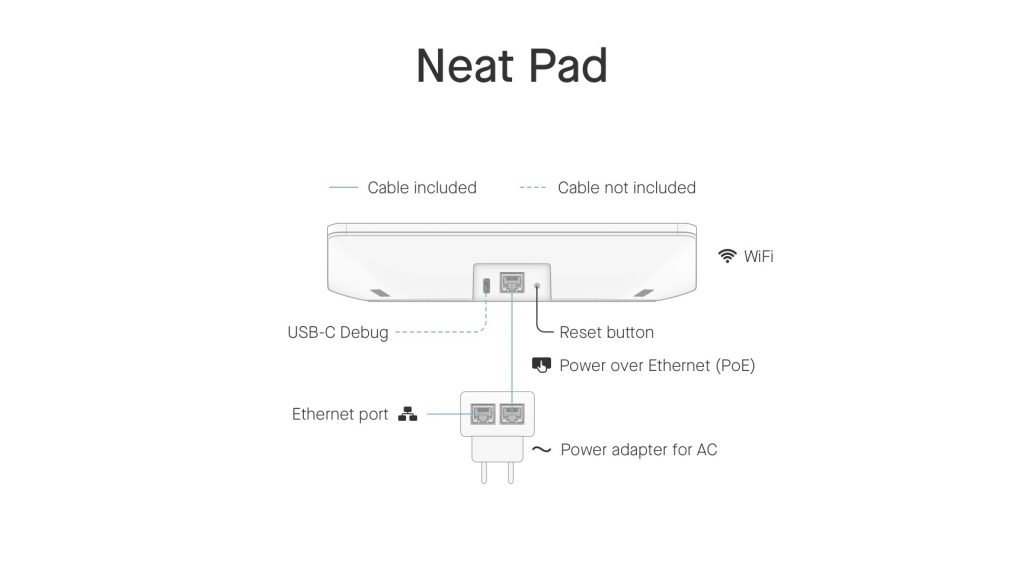 Step 2: Power up your Neat Bar Pro
Connect the Neat Bar Pro to AC power and to the screen using the HDMI output.
Note: If you are using a single screen, make sure you connect to Neat Bar Pro's HDMI 1 output. If you are adding a second or third screen, please use the HDMI 2 and HDMI 3 output of the Bar Pro respectively.
Connect the Neat Bar Pro to your network switch using an Ethernet cable.
Once this is done, follow your Neat Pad's instructions and set the language and hit Continue.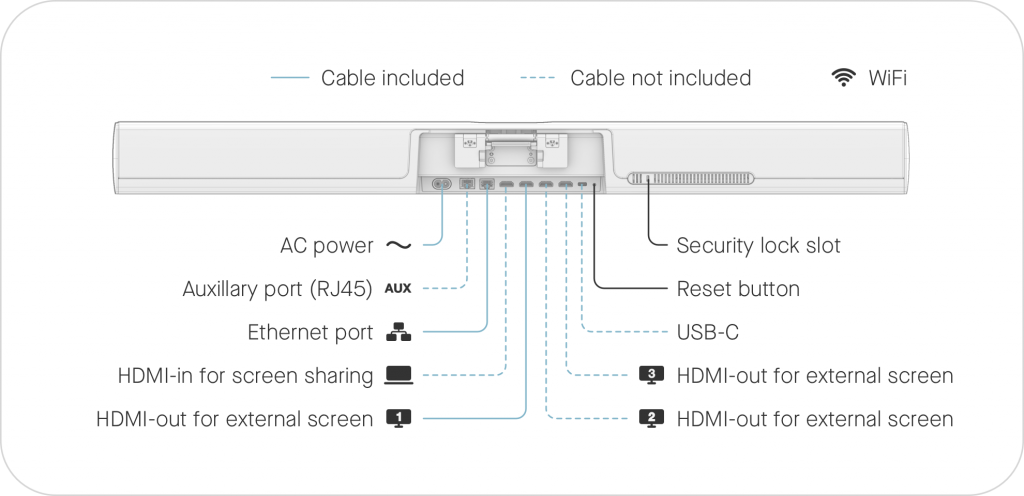 Step 3: Choose your setup scenario
You will have four set-up options available to you. If you are setting up a Neat Bar Pro, the Neat Pad needs to be paired with the Bar Pro. To do so, choose "Set up Neat Bar Pro with controller."
If you are using the Neat Pad as a standalone device (e.g. controller for a 3rd party Zoom Room or a scheduling display), choose the other two options as desired.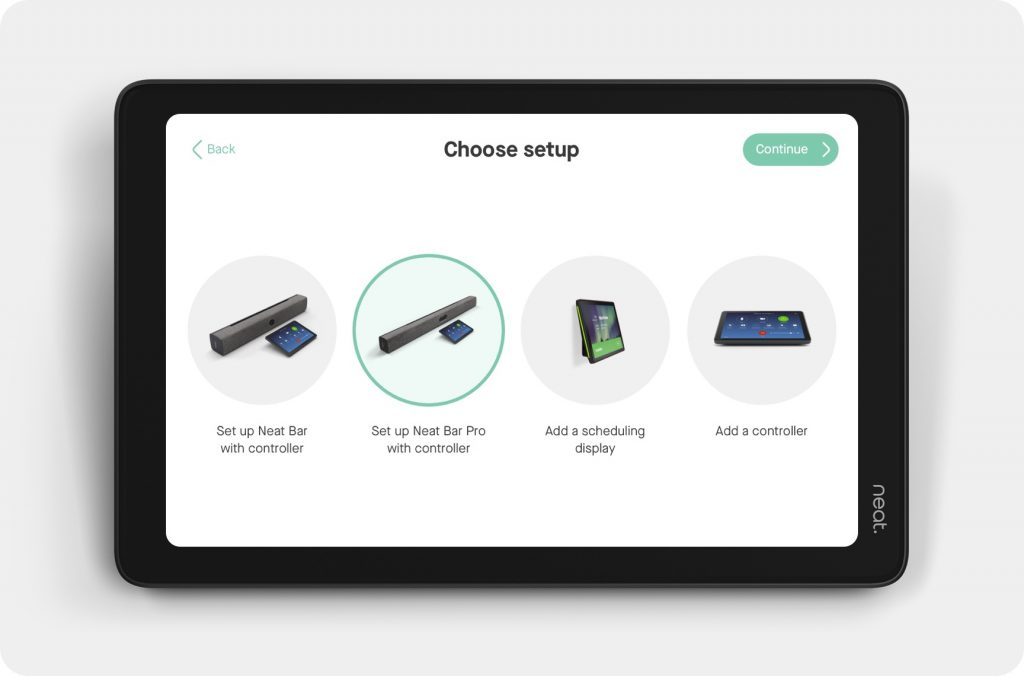 Step 4: Choose your Mounting Configuration
You can choose between Table, Wall, or Screen mounting. The set-up wizard will walk you through the appropriate steps to set-up the Neat Bar Pro depending on your choice.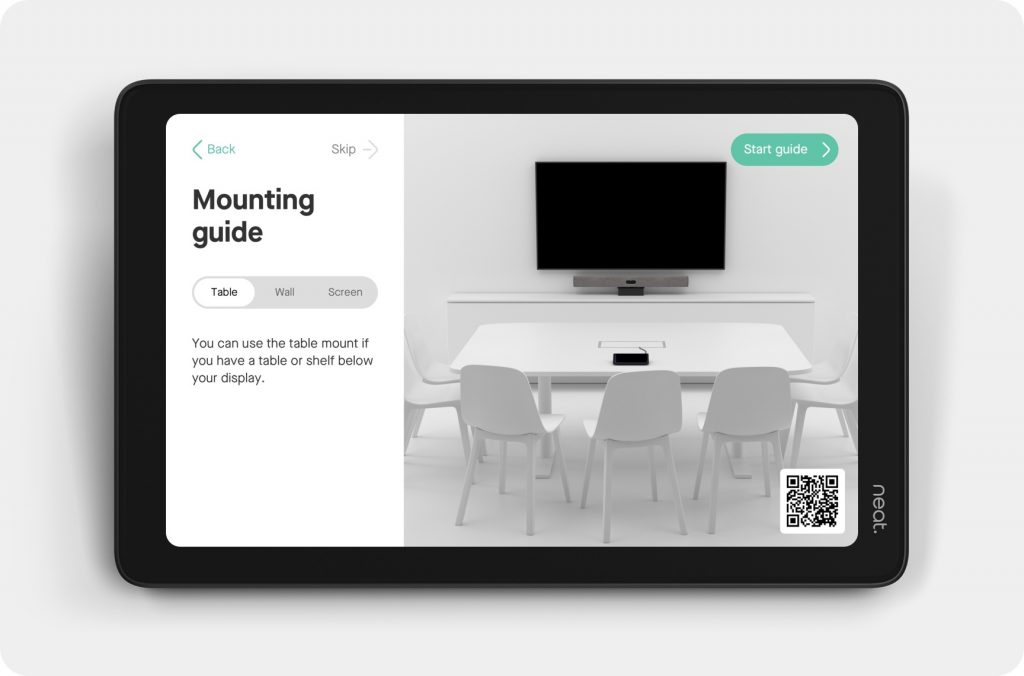 Step 5: Connect Neat Pad and Neat Bar Pro to the Internet
If you've connected Neat Pad and Neat Bar Pro using Ethernet cables to a wired network, you should be connected to the internet automatically.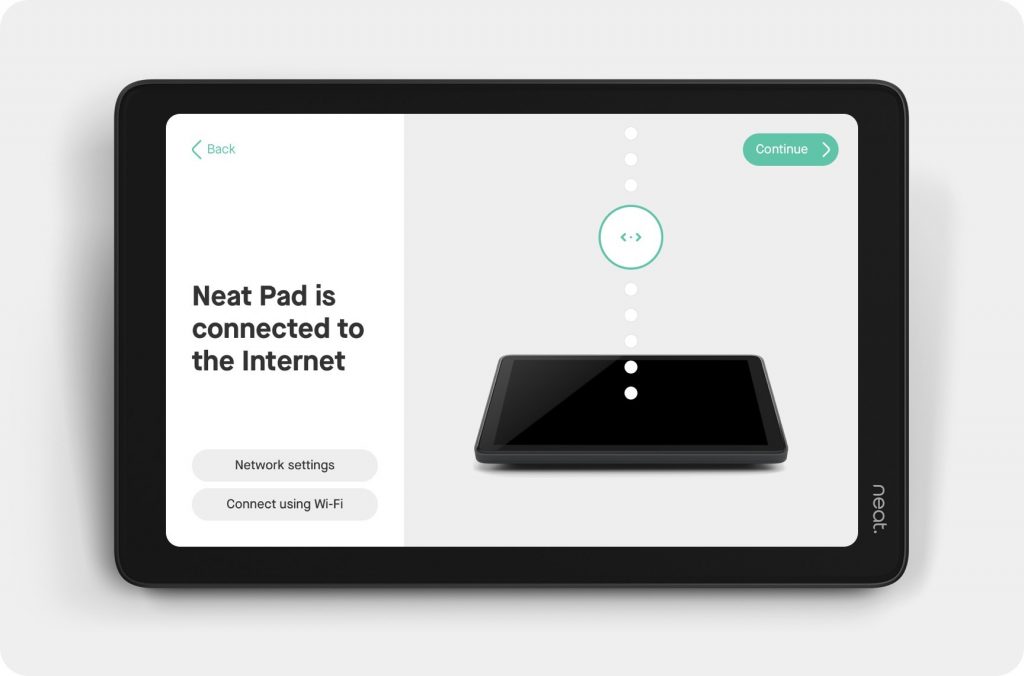 Step 6: Choose your Neat Bar Pro
Your Neat Bar Pro should be powered up and connected to a display using its HDMI 1 port. You should now see the Neat Bar Pro's serial number on the display screen (if you do not see this, it is possible your TV screen is not set to the correct input).
The Neat Bar Pro serial number should now appear on Neat Pad (you may see multiple serial numbers if you have multiple Neat Bars or Bar-Pros in your office).
Select the correct serial number and hit continue.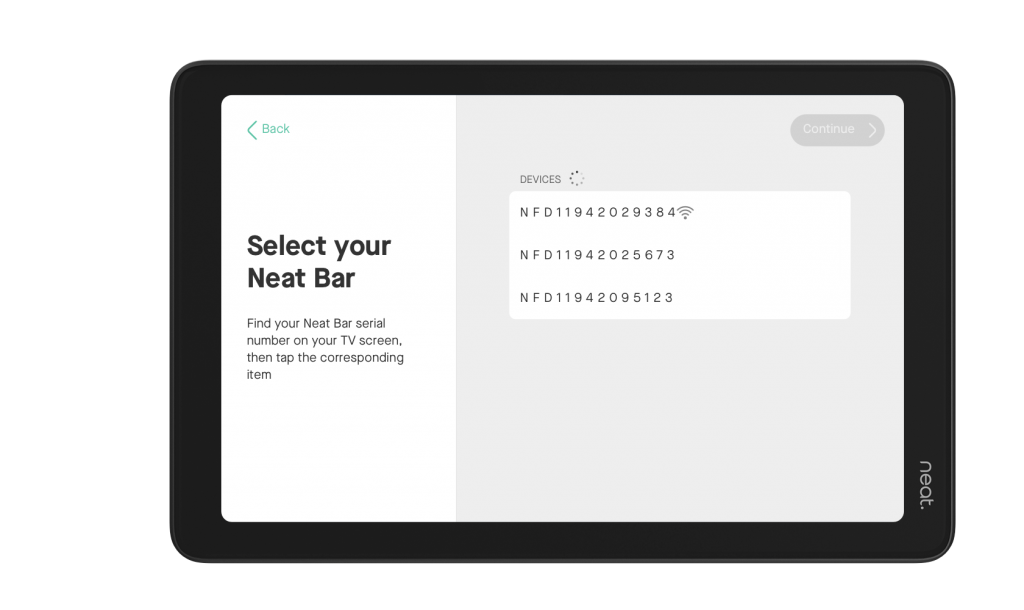 The Neat Bar Pro and Neat Pad should now pair successfully. Once Neat Bar Pro and Neat Pad have paired, you will see a green check mark appear on Neat Bar Pro's display, and hear a chime.
Neat Bar Pro and Pad will now download any software updates available. Do not unplug Neat Bar Pro or Neat Pad while they update.
Next you'll be prompted to adjust your Neat Bar Pro for the optimal viewing experience.
You will now be asked to launch Zoom Room application. Activate your Zoom Room either by entering the Activation key or signing in with your Zoom account and selecting the correct Zoom Room.
That's it! You are now ready make calls using your new Neat Bar Pro and Neat Pad!