Get started: Neat Pulse Control
Last updated on September 20, 2023
Introduction
Neat Pulse Control is a cloud-based management platform for Neat devices. It provides Neat-specific control and monitoring, such as the ability to view and update various Neat-firmware specific settings, remote management of Neat devices, live environmental data and logs. Neat Control provides a Neat-level view that is not available through either Zoom's ZDM or Microsoft's TAC platforms.

This article aims to provide a brief introduction to each of the features of Neat Pulse Control and a link to an article that provides more information about the feature.

Note: In this (and other related) documents, Neat Pulse Control may also be referred to as Neat Control, Pulse Control or Control. Devices refer to Neat Bar/Bar Pro/Pad/Board/Frame.
Topics in this article:
Pre-requisites for using Neat Pulse Control
How to login
Devices, Rooms and Profiles
Enrolling a device
Users
Settings
Audit logs
Organizations
Troubleshooting from Neat Pulse Control
Filters
Neat Pulse Control User Guide
For a comprehensive document, please see the Neat Pulse Control Guide here (PDF copy)
Pre-requisites for using Neat Pulse
Neat devices must be running version 20230504 or higher
Devices must be connected to network, complete Out-of-box (OOB) configuration and pairing (where required)
How to login
Once you have been given an account on Neat Pulse Control (through Neat Pulse Starter/Plus/Pro service plan), you can login to the portal by opening the following link on your web browser:
Methods for signing in:
Google Account
Microsoft Account (Active Directory accounts only, not personal Outlook.com accounts)
Email address & password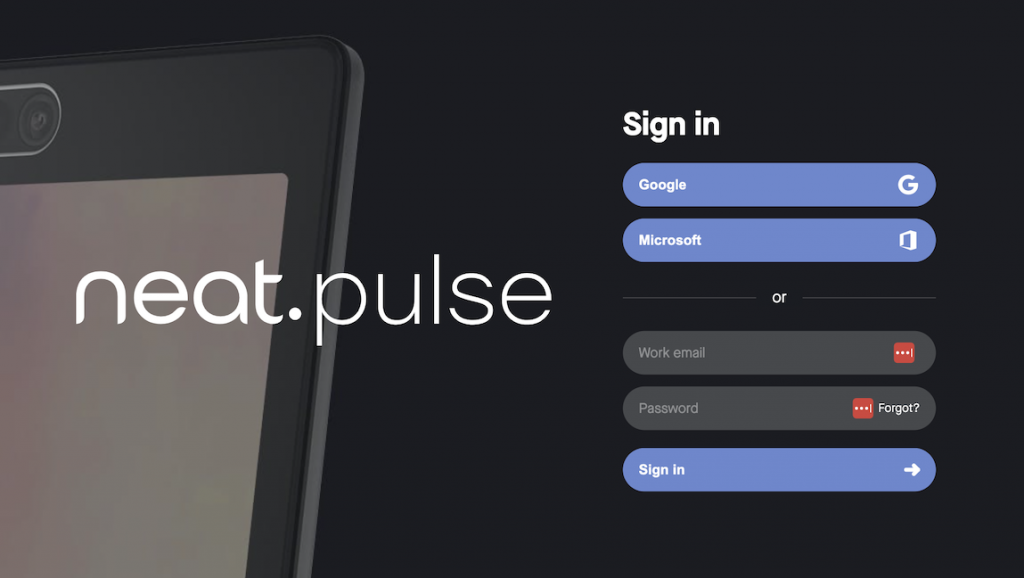 Note: in order to sign in to your organization in Neat Pulse Control, you will need to use the same login method used when your Neat Pulse Control account was originally created.
Devices, Rooms and Profiles:
Once you login to Neat Pulse Control, you will enter the Devices page for your organization. This view will show you all the Neat devices that are currently managed by Neat Pulse Control.

Neat Pulse Control groups all Devices into Rooms (e.g. Room titled 'Meeting Room A' can contain the Device 'Neat Board'). Each room can either have its own settings, or can be part of a group of rooms with the same settings. The latter is achieved by assigning a common 'Profile' to the rooms that will be grouped together. In addition, rooms can also be listed by locations and/or regions within your organization.
Devices page is also the place where you are able to add a device (see Enrolling a Device).

Learn more about Devices
Learn more about Profiles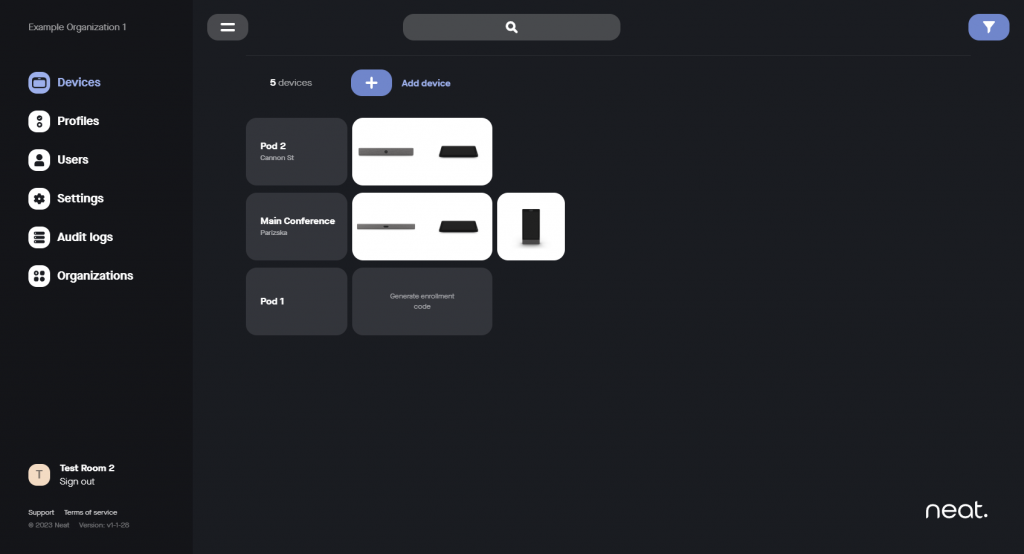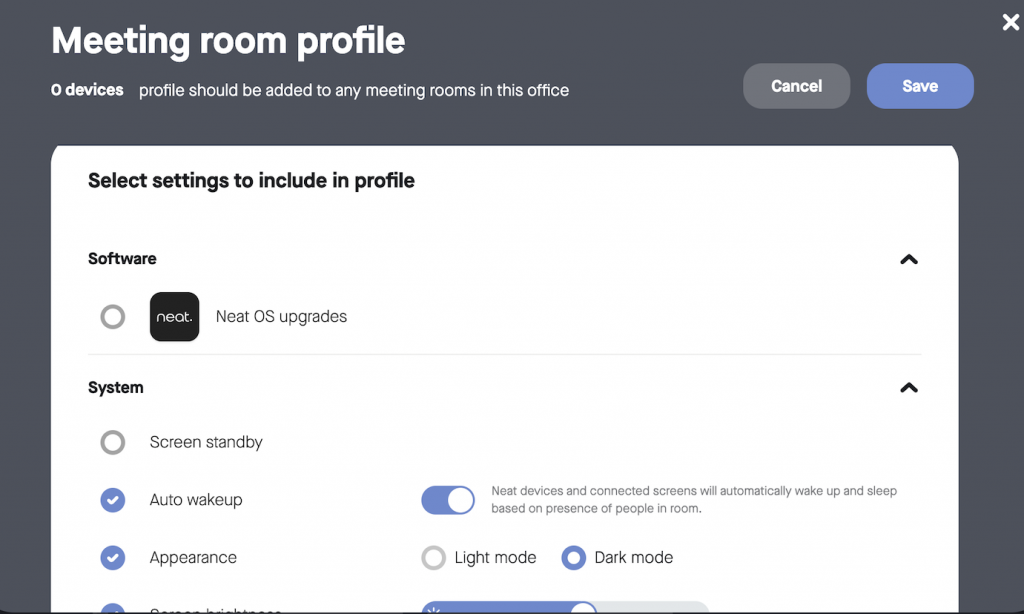 Enrolling a device
In order for a Neat device to be ready for use with Neat Pulse Control, it must first be physically installed, connected to the network, and any initial configuration (OOB) and pairing completed.

On the 'Devices' page, press the 'Add device' button at the top of the page. The 'Add device' pop-up will appear, allowing you to enter a room name of your choice. Once you save the room, an enrollment code will be generated for the room.

Next you will need to go the Neat Device and enter this enrollment code by going into Neat's System Settings and clicking on the Add to Neat Pulse option from there. As soon as you have done this, the device will show up under the newly created room on Neat Pulse.

For step by step instructions on how to enrol a device on Neat Pulse Control, see the following link.
How to Enroll a Device on Neat Pulse Control
Users
Neat Pulse Control is administered by users. There are two types of users:
Owner: Owners have access to all settings in the organization. There can be multiple owners by organization.
Admin: Access for admins is restricted to specific regions. Admins can only administer endpoints within these regions & cannot edit profiles. They can add users & edit organization settings.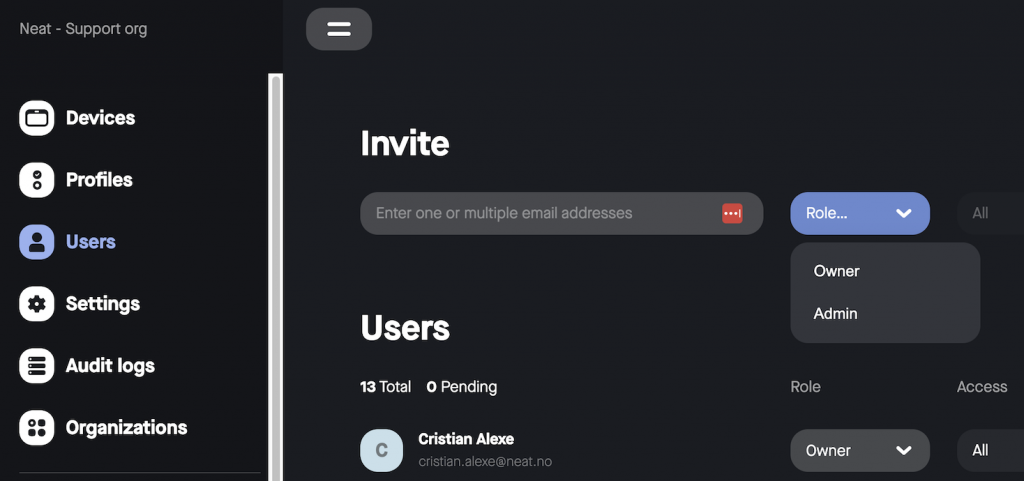 Settings
The Settings section allows users to change their organization's name, enable/disable analytics and most importantly, add regions and locations to their Neat Pulse Control platform. These regions and locations can be helpful when creating a view of specific Neat devices in the organization.
Learn more about Settings, Regions and Locations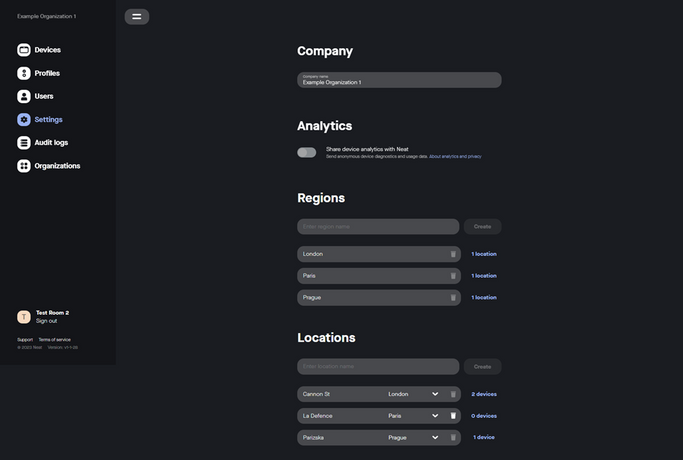 Audit logs
Audit logs are used for monitoring the actions taken within Neat Pulse Control. The Audit log page allows the logs to be filtered either by 'User Action' or by 'Device Change'. The 'Export logs' button will download a .csv file containing the full log.

Learn more about Audit Logs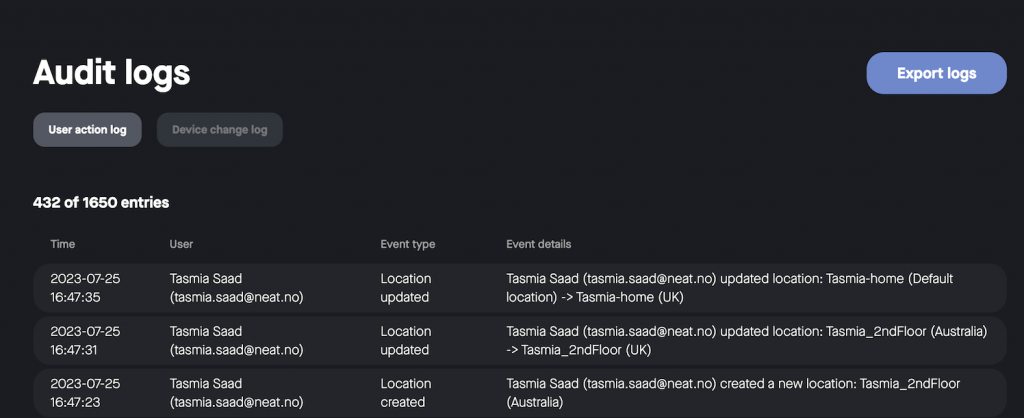 Organizations
When first creating your user account, the Neat team will create an organization for your company. However, there is no limit to the number of organizations a user can be added to in Neat Pulse Control. Users who are in multiple organizations will see an additional tab on the left-hand menu called 'Organizations', where they can navigate between the organizations they are part of.

Learn more about Organizations

Troubleshooting from Neat Pulse Control
Neat Pulse Control provides a centralized platform to manage and monitor all of your Neat devices in your organizations. This is especially beneficial if you are trying to remotely troubleshoot and issue a Neat device user may have reported to you.
Remote Control
The Remote Control feature allows you to start a remote session with a Neat device to allow you to view, manage, update a Neat device from your web browser. Paired devices will allow for remote control of both devices at the same time.

Learn more about Remote Control
Send feedback
It is also possible to obtain logs directly from the Neat devices that are active on Neat Pulse Control. This is very useful if you are trying to troubleshoot a problem and want to send a problem report to the Neat technical support team.

In order to do this, navigate to Devices -> find the Room you are trying to troubleshoot -> Click on the image (it has to be Online) -> Click on the … (more) icon (top right) -> Submit Logs. It will open your default email client and pre-fill the TO field (support@neat.no) and Subject (unique code) of the email. In the email body, please provide the descriptions of the issue and send the email to raise a support ticket with the Neat technical support team.

Learn more about sending logs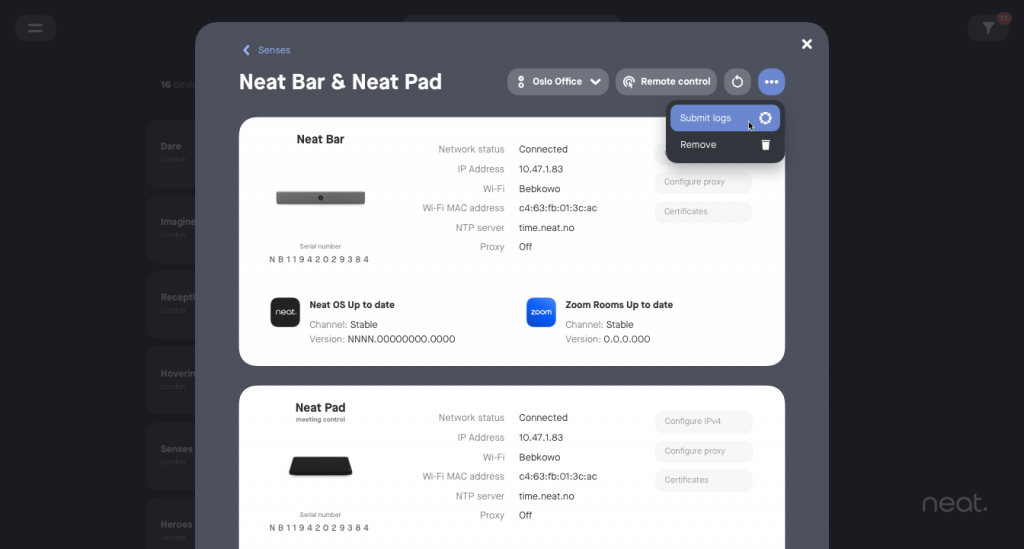 Filters
Filters allow an easy way to only view the rooms (Devices page) or log entries (Audit logs page) that you are interested in. It can be accessed from the top-right of the screen and the user is presented with various options pertaining to that area. For example, on Devices page, Pulse Control allows you to filter based on Status/Device/Profile/Region/Location, whereas on Audit Logs page, it allows you to filter based on Date/User/Event-type.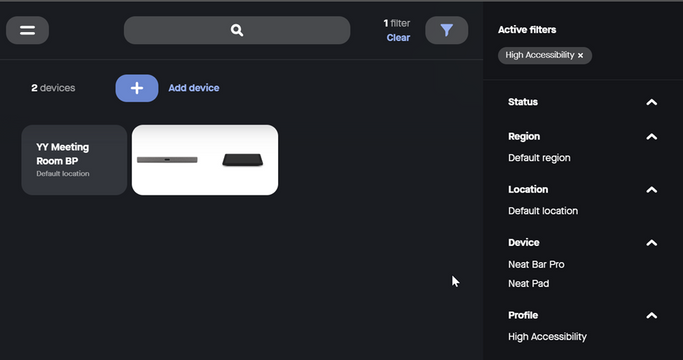 Neat Pulse Control Guide
If you want to view or download the Neat Pulse Control Guide, you can find the pdf copy here.